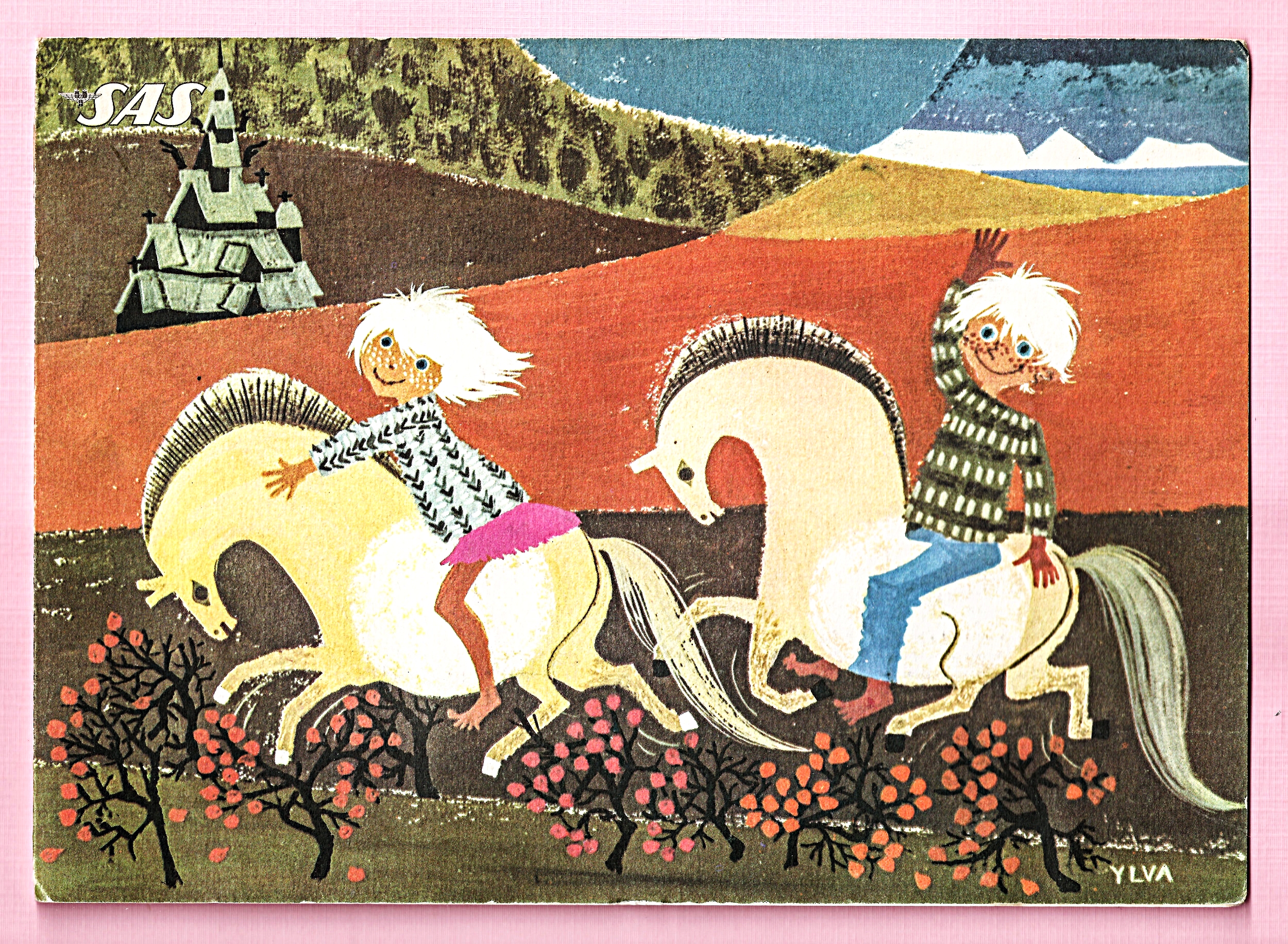 If I had a dollar for every time a passenger jokingly asked for lobster during beverage service, well...I could buy a lot of lobster.
I usually write about food that is eaten once at a destination, but I wanted to do something a little different and talk about the food that was eaten during the course of a journey during the Golden Age of airplane travel. What did people eat while moving from one place to another during that glamorous sliver of time from the 1920's to the late 1970's? Imagining it, I see filet mignon and glistening hams swirling around the airplane on silver trays proffered by perfectly coiffed flight attendants. Was it really that glamorous?
To find out, I've started collecting vintage menus from different airlines and time periods because I'm truly fascinated by it. I need to know what kind of liquor and wine was served, what kind of salad prefaced the meal, what was for dessert, and just how much caviar was there? I am now an eBay obsession-bordering-on-addiction menu collector, and I rationalize it because the artwork on them is amazing, and I'll eventually frame them. Someone save me from myself! I think that part of my fascination stems from the fact that these days, I'm lucky if a description of the meals I'm serving on a flight accompanies them. Though, I'll admit, I love making up names such as Miscellaneous Seafood Entree, which is not particularly popular with passengers when I sell it like that! In my research and menu collecting, it turns out there was a lot of cottage cheese and pineapple salad, and Aspic (a savory gelatin dish filled with meat or vegetables), so though we may often reminisce about the Golden Age of Flying, I think we would all gladly pass on gelatinous crab topped with curry sauce if given the option. I'll probably still make a post with that recipe though, because I am relentlessly curious like that. This particular menu is an SAS Scandinavian Airline Systems menu from the midcentury around 1960. There isn't a date on it, so that is only an educated guess based on the year on their Bordeaux and Borgogone on their wine list.
Let's pretend for a minute that we are a passenger boarding an SAS flight in the 50's or 60's. First things first. Your ticket probably cost more than what you make in a month, assuming you are not filthy rich. Unless you had been saving your pennies for years, flying was mainly resevered for the privileged few, and the service and the food reflected that. White-jacketed waiters, bartenders, and sommeliers were all onboard to serve you, in addition to stewards and stewardesses (what I wouldn't give for that kind of help these days!). Oh! and because smoking was allowed on board, the air onboard would be thick with cigarette smoke. Seems like such a shame that tastebuds were dulled by tobacco in the prescence of such extravagent dessert trolleys and fine wines. Your Aspic was served on real china and linens, your adorably drooly little baby slept soundly in a bassinet attached to an overhead bin above your head, and if turbulence hit while you happened to be mingling with other passengers at the airplane bar, well, you better hope there was something nearby for you to grab onto!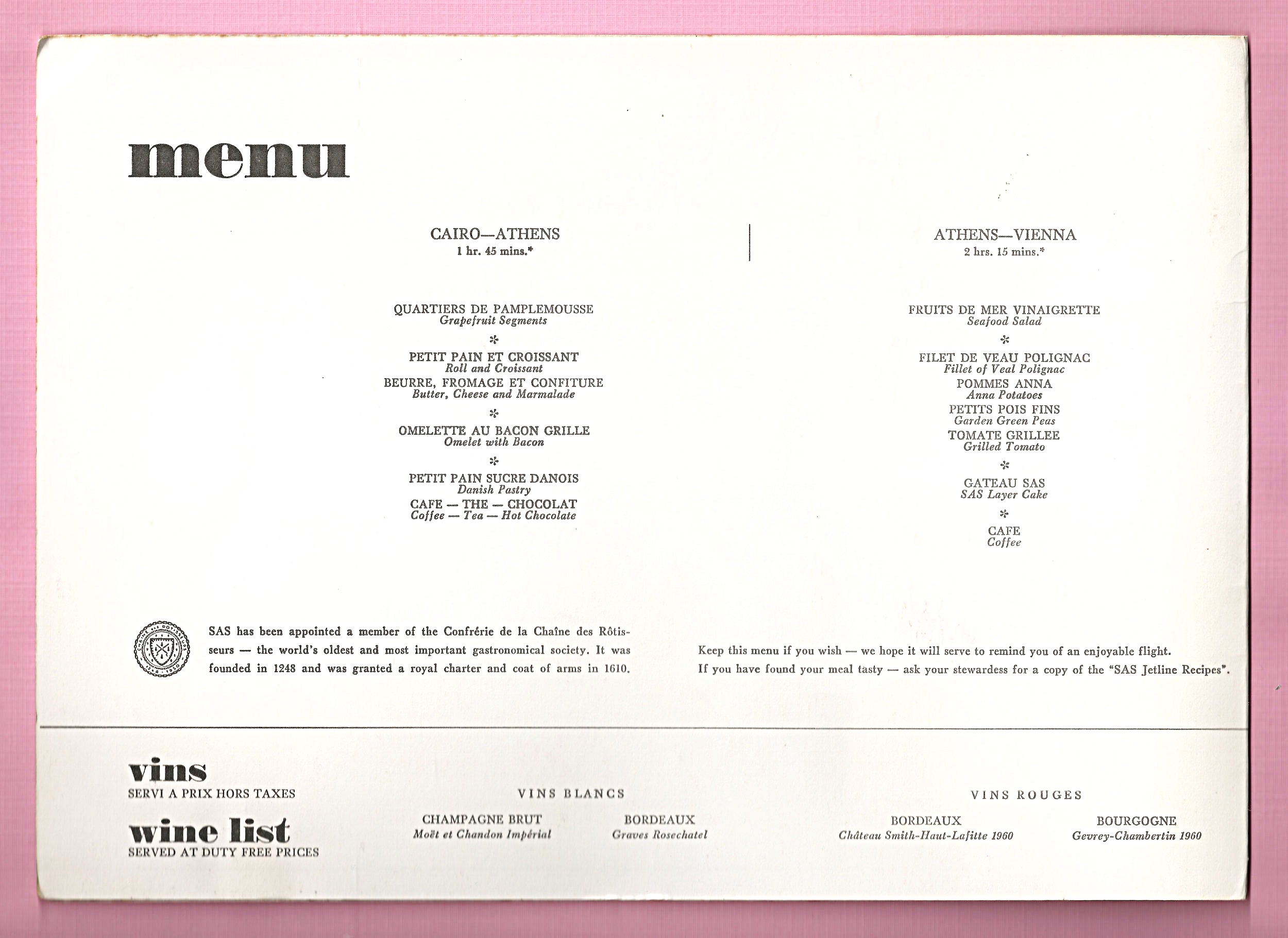 Since this SAS menu has a few different short flights on it, the dishes on it are not as elaborate as those that would be served on longer, transcontinental or international flights. It seems that when it came to midcentury dining, if they were aiming to exude luxury and opulence, Pommes Anna or Poire Belle Helene was on the menu. Basically French = fancy, regardless if the dish was on a Scandinavian, American, or Mexican airline menu.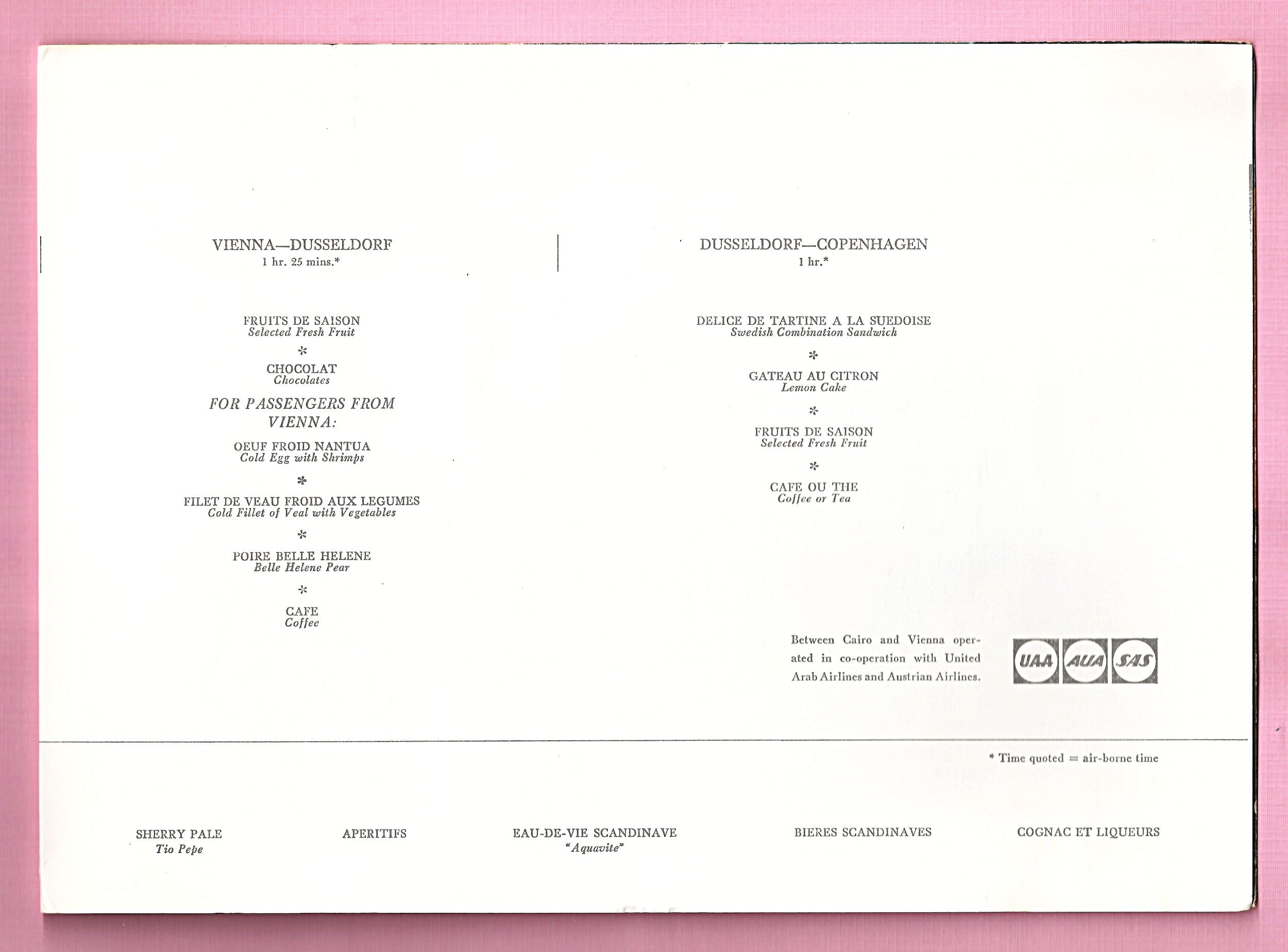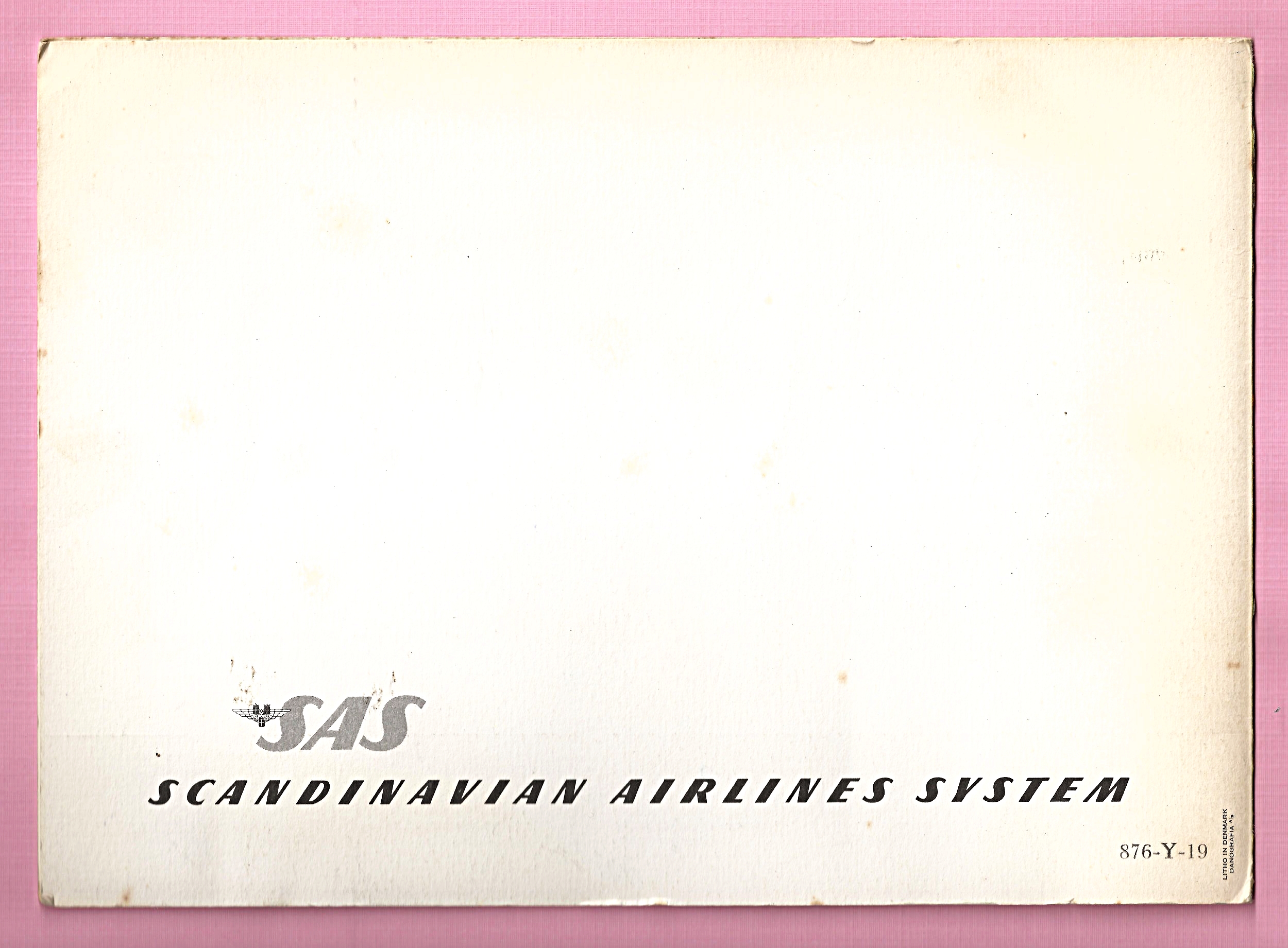 Maybe all you got were stale pretzels or peanuts on your flight today in 2017, but you likely paid a few hundred bucks for what would've cost a few thousand dollars fifty years ago, you didn't snap your neck during turbulence, nor did your baby turn into a torpedo when it was catapulted from its overhead-bin bassinet, so at least there's that?
Poire Belle Helene (from the second page of the menu as the dessert for the Vienna to Dusseldorf flight) is a pear dessert poached in a vanilla sugar syrup, and topped with chocolate sauce and vanilla ice cream or whipped cream. It's a very retro dessert that dredges up a lot of nostalgia and graced many midcentury airplane dining menus, cookbooks, and magazines in the 60s and 70s, but this dessert can be traced all the way back to 1870, when it was first created by Auguste Escoffier. The best part? Peeling and coring the pears is as complicated as this dessert gets, the rest comes together so easily.
POIRE BELLE HELENE
For the poached pears:
4 ripe Bosc pears (might be a little hard to find out of season, so any firm pear will do)
1 quart water
2 cups sugar
1 lemon
1 vanilla bean pod, or 1 tbsp. pure vanilla extract
Vanilla ice cream or whipped cream for topping, optional
Chocolate ganache:
8 ounces good quality dark chocolate, 65%-85% percent chocolate
1 cup heavy whipping cream
1/8 teaspoon salt
1. Prepare poaching liquid by mixing water, sugar, vanilla, and lemon juice into a saucepan and simmer over medium-high heat until the sugar is fully dissolved.
2. Carefully peel and core pears, keeping the stem intact. Coring them helps them poach evenly and absorb more poaching liquid. Add pears to mixture and bring to a boil. After 15 minutes, reduce heat and continue cooking up to 45 minutes. Keep a close eye on the pears as overcooking will cause them to disintegrate.
3. Once the flesh of the pear is soft but not mushy (you can test this by piercing it with a fork), remove from heat and allow to cool to room temperature in the poaching liquid.
4. While pears are cooling, prepare your ganache. Chop chocolate into small pieces, and mix with salt in a bowl. Bring heavy whipping cream to a simmer and immediately pour over bowl full of chocolate. Allow to sit undisturbed for 2 minutes, then whisk until chocolate is completely melted and comes together with the cream and turns into a shiny and silky chocolate sauce.
5. Carefully remove pears from poaching liquid, and serve with chocolate sauce and vanilla ice cream or whipped cream, if desired.
* The retro jade green glass footed bowls I used for the pears in this recipe are from WORLD MARKET